They say you can't know where you're going until you know where you've been. Read on to learn about the history of our farm and how we've managed to survive gentrification for over a century.
When Spanish immigrants Amador and Visitación Seijas bought the Seattle Farm property at the end of Bond Street in Rainier Beach in 1919, they were new to America. They had so little to their name that, at first, they lived in the 500 sq. ft. chicken coop. As they saved up their earnings, they worked on the main house and accumulated a few farm animals. Eventually, they raised three sons at the home they built.
Their oldest, Amador, known as Army, was the first in the family to catch the horse bug. He and his best friend, Bill Hutchinson—the future founder of the Fred Hutchinson Cancer Research Center—would routinely "borrow" Bill's brother's horse and gallop it at full speed around the quiet dirt roads of South Seattle.
Nine miles north on Capitol Hill, Betty Davis lived with her father, who ran a livery stable on Seneca Street in downtown Seattle. Betty shared Army's thrill of galloping her own horse, but she liked to do it at night down cobblestone streets so she could watch sparks fly off her horse's shoes.
Army Seijas and Betty Davis met in 1936, and married shortly after. One day, Army returned from a business trip in Los Angeles and announced that he had acquired a one-year-old thoroughbred named By Time.
Army & Betty; Gloria Sferra's Parents
Bond Street, Seattle Farm, 1937
By Time raced briefly at nearby Longacres racetrack in Renton. While fast in her workouts, By Time put on the brakes when it came time to face the fierce competition at the starting gate. After only a few races, Army and Betty decided to breed the mare, and Betty tried her hand at training the foals herself.
By Time's third foal, Colonel Bob, a 17'1 hand bay with three white socks (pictured above), was her most successful. In a single day in 1953, Colonel Bob broke his maiden (won his first race), set the track record at Longacres, and won the Breeders' Stake. Colonel Bob and many more of the family thoroughbreds went on to race successfully throughout California and Arizona in the 1950s and '60s. In fact, By Time is the direct ancestor of five generations of horses, which have all been cared for by Army and Betty's descendants.
Betty was an attentive, intuitive trainer and caretaker for her horses, but she put even more of her nurturing efforts into her daughters, Gloria and Betty Lou. For Gloria's fourth birthday, in 1942, her mother bought her a saddle. She received a Welsh pony to go with it soon after. The pony, named Babe, was shaped like a wine barrel with legs, but she had a refined head and a shiny blood-bay coat. The pony lived in the big pasture behind the farmhouse, which stands at the end of Bond Street to this day. Gloria visited her grandparents every Sunday on the farm during World War II. Gloria helped milk her grandfather's dairy cow and watching him pour the fresh milk into the cream separator in the cool basement. Gloria's first lessons on Babe were in that same pasture behind the Bond Street house. And the lessons sparked a love affair with horses that remains the beating heart of the farm for generations to come .
Years later, in 1966, after Amador and Visitación passed away, the farm was sold outside the family to a young Seattle lawyer named Pat Sferra. Pat had been smitten with Gloria Seijas for years, and it was she who encouraged him to buy her grandparents' run-down little farm. Pat did just that and then asked Gloria to marry him. In 1967, they said, "I do." Soon after, they went about purchasing the adjacent vacant land and building barns for Gloria's growing herd, which would one day be twenty-five horses. Gloria painted the enlarged, renovated farmhouse and all the new barns her favorite color: sunny yellow.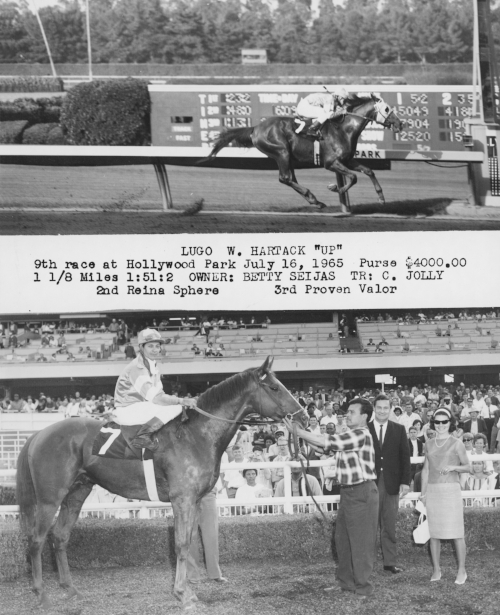 Gloria Sferra in The Winner's Circle
Hollywood Park Racetrack with family owned and bred racehorse "Lugo", California, 1965
Pat and Gloria soon added two humans to their growing farm family: their daughters, Linda and Lisa. Both daughters grew up as fond of the farm as their mother, jumping horses over logs under the seemingly endless greenbelt beneath the city power lines. On snow days, they rode their horses around the neighborhood, towing their friends on skis or inner tubes. Linda grew up with a naturally competitive streak and showed her mother's home-bred ponies from an early age. Lisa, on the other hand, always loved trail riding, and in her senior year of high school, she completed the first of many 230-mile rides across the state of Washington with her mother. Linda and Lisa both loved to go Foxhunting in Tacoma in the winter.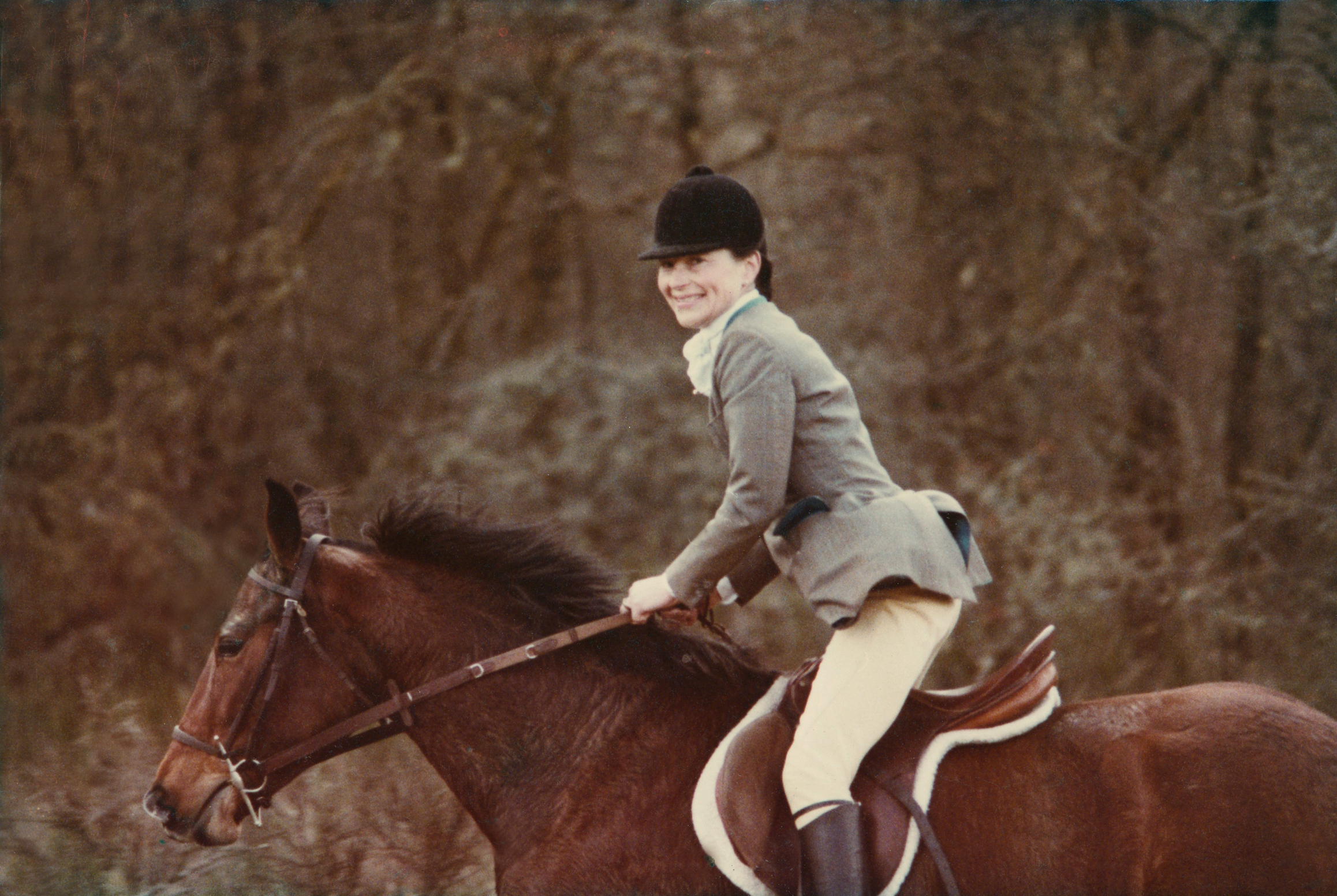 Woodbrook Hunt Club, circa 1975
The sisters left the farm for college in the late 1980s, but Lisa returned after completing a medical residency and marrying her husband, Garth Olsen. Garth and Lisa's two children, Army and Gigi, have been raised on the farm, and Gloria, their grandmother, has remained on the farm, witnessing the many ways Garth and Lisa have worked to update and expand the property. In 2014, the family completed a state-of-the-art covered arena. Since then, new barns (yellow, of course), a heated tack room with lockers, a warm water wash rack and covered tack areas have been constructed, and modern updates made to all eight living spaces that were built or bought by the family over the last hundred years.
While the property grows, the family stays close to their original love of horses. Lisa's daughter, Gigi, shows hunters and jumpers locally and, with her aunt Linda, at Thunderbird Show Park in Langley, BC. Army has kept up the tradition of trail riding through yearly expeditions on the Pacific Crest Trail with her his mom and cousins. And Lisa still makes her annual cross-state trek from Easton, Washington, to the Idaho border. Both Linda and Lisa continue to Foxhunt with their families every winter.
The youngest generation at the Seattle Farm, Army and Gigi, have cultivated new farm traditions and adventures of their own. They organize pony camps for kids in the summer and host an annual pumpkin harvest with pony rides every fall. The two will be leaving for college soon, but Lisa, Garth and Gloria remain close to the family's roots, living on the property and caring for the horses that live on the very same South Seattle land as the people who raised them.
Wood Brook Hunt Club, 2008